Free Shipping
Shipping Time:
We want to get your order to you as quickly as we can. If your order is placed by 2:00 PM EST, your order is processed the same business day (Monday through Friday, excluding Major Holidays such as Christmas,Memorial Day,etc **see below for a complete list). Our handling time is a maximum of 1 day so you'll receive your item between 1 and 7 business days based on the shipping method you chose at check out. We ship using the following carriers USPS, FEDEX and UPS. We do offer expedited shipping options for 1 Business Day, 2nd Business day, and 2-3 Day for additional fees shown at checkout (rates vary per location and weight).
As a general rule, please do not expect your item to arrive on Saturday or Sunday. Please regularly check your tracking, try to avoid leaving packages outside unattended. Most packages we ship do require signature so please ship to an address where someone will be available to receive the package.
IMPORTANT DELIVERY INFORMATION:
Next day shipping will get delivered on regular business days (not Saturday). 2nd Day delivery will occur on regular business days or possibly on Saturday if the item is shipped USPS (carrier is randomly chosen based on location and weight). 2-3 day delivery will ship either USPS or FEDEX and delivery will occur during regular business days and possibly on Saturday if the item is shipped USPS (carrier is randomly chosen based on location and weight). Regular Standard shipping occurs typically within 2-7 days based on your location and our fulfillment center from which your items are being shipped. Our main facility is located on the East Coast and follow the EASTERN TIME ZONE, however, based on the items you choose, we do ship from our multiple fulfillment centers which are located throughout the US.
Hawaii and Alaska:
Please note some larger dimensional items might incur additional fees when shipping to these destinations. You might be contacted for additional shippping fees or cancellation of your order.
International-
You will be responsible for any Duties and Taxes charged by Customs. Please use PayPal payments for your international destination.
Additional Shipping Information
- Processing time includes our 6-step quality-control inspection and fraud protection. If we have any questions or delays regarding your order will contact you via email and telephone.
P.O. box, APO, FPO
orders ship via the US Postal service, however some items with high value cannot ship using USPS. If your item is deemed high-value, we will contact you for a new physical address for Fedex, UPS or DHL to deliver your package with signature required and proper insurance. Tracking will be sent once your order has been shipped.
The online tracking link may take up to an additional day to show the progress from the shipping courier. USPS progressive tracking sometimes takes 1 day to update after the item has shipped.
Refused Items & International Orders:
Items refused or return to sender might incur a restocking fee up to 20%. International orders that are refused will incur a 20% restocking fee. Current exchange rates apply, we do not control exchange rates and base refunds off of the US dollar. PurchaseDirect.com is not responsible for damage caused by customs or freight forwarders. We inspect every item carefully prior to shipment. Most shipments require signature so please follow the tracking progress frequently so you will be around to sign for the package.
**Major Holidays:
New Year's Day, Martin Luther King Day, Presidents' Day, Memorial Day, Independence Day, Labor Day, Columbus Day, Veterans' Day, Thanksgiving, Christmas Eve (before noon Eastern), Christmas Day and (New Years Eve before noon Eastern)
Below is a rough estimate of transit time until final delivery. Your item is being shipped from the East Coast. Important to note: Most items require an adult signature to ensure a safe arrival for you and to prevent theft.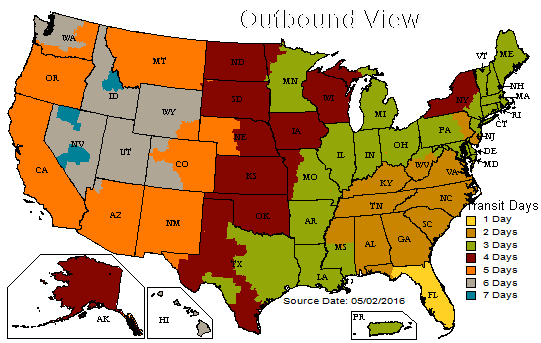 If you have any shipping questions, please contact customer service at 574.3DIRECT (574.334.7328) or email us at help@PurchaseDirect.com